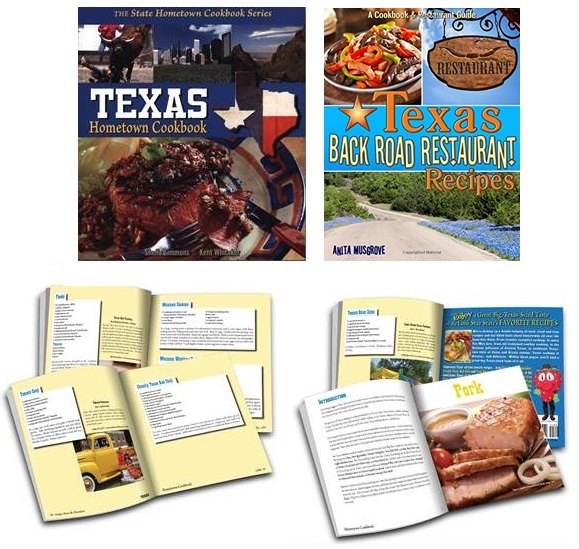 Real Texas Cookbooks
Do you want to relish the authentic taste of Texas and get indulged in its irresistible zest? Do you want to make your friends and family go-gaga for your delicious Texas dishes? Then, get ready to win their hearts, with either our Texas Hometown Cookbook Southwestern Family Recipes, or our Texas Back Road Restaurant Recipes. You can hardly ever imagine what these cookbooks can do while turning you on to the great taste of Texas. Wish to know? Get one of them now and find out for yourself!
The Treasure of Texas Cooking Secrets
Discover and relish the most appetizing and scrumptious hometown recipes of Texas. This book offers you the most easy-to-follow recipes and dishes that any dish you make is guaranteed to turn out wonderful. You can prepare a wide range of Texas dishes in no time with ease. Even dishes like Trail Riders Barbecue Coffee Pork Butt, Chunky Texas Red Chili, Mexican Wedding Cookies, Blacked-Eye Pea Jambalaya etc. can be prepared with great precision. Texas cooking demands lots of patience and understanding about food and recipes to get that great taste of Texas. The Texas Hometown Cookbook makes this so easy.
These cookbooks are way different from other Texas cookbooks available in the market. Apart from Texas fusion recipes, these books are packed with a number of traditional recipes and amazing cultural facts behind these recipes. Both the Texas Hometown Cookbook and the Texas Back Road Restaurant Recipes Cookbook contain a complete section of lunch and dinner recipes, which will instantly make you the super-chef of the house. You can choose from a number of delicious two minute recipes to prepare a lunch for your kids in a jiffy. Even busy days will not worry you anymore, because you have the treasure of family recipes. Best of all, all the mentioned recipes in the books can be prepared in home-style, which tops these recipes with a homey touch.
Party Every Day
Get rid of the boring meals and cook something fab everyday. The easy to follow recipes always keep you prepared for unexpected gifts and sudden occasions. These books have a great selection of recipes hand picked from the great cookbooks all over the Texas. Besides, you don't have to run to the grocery every time for special ingredients, you can prepare a meal from ingredients available in your very own kitchen. These Texas Cookbooks are all about kitchen secrets that would sharpen your Texas cooking skills.
A Combination With Wide Range of Spicy Non-Veg. Recipes
If you are a non-vegetarian or your family loves non-veg foods, buy this book straight away. Nothing can beat these Texas Cookbooks in real Texas beef and Texas Chili recipes. To cook special, you don't have to put any special effort in to it. The tangy, spicy and savory taste of these Texas recipes will make them ask for more every time.
Texas Back Road Restaurant Recipes

This unique cookbook serves up a well-researched and charming guide to Texas's best back road restaurants plus favorite recipes from restaurant owners, chefs and the best cooks in the state.

$19.95
Texas Hometown Cookbook

A collection of tried and true recipes that will be enjoyed by Texas natives, visitors or anyone who enjoys a good cookbook.

$19.95